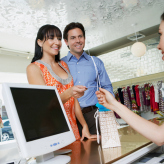 Samsung Pay is just one of a number of services available to consumers and businesses looking to make the most of growth in the mobile payments sector, whether for the sake of greater convenience or enhanced bottom-line profit. Apple Pay and Google Wallet may steal most of the headlines when it comes to the mobile payments sector, but Samsung continues to show it is serious about getting its own slice of the action, too – most recently with its announcement of the integration of eight additional credit and debit card issuers.
Samsung Pay, which the company claims to be the most accepted mobile payment system around, already supports payment made through three of the major and most popular networks in the United States and elsewhere: Visa, MasterCard, and American Express. The latest development will be of most benefit to customers in the US, or those with accounts at these US-based financial institutions but who themselves are based overseas.
Among the newly supported payment methods are Visa cards issued through the American bank Chase and through the Navy Federal Credit Union, as well as MasterCard credit and debit cards held against accounts with the following US institutions:
Citizens Equity First Credit Union
Randolph-Brooks Federal Credit Union
Security Service Federal Credit Union
State Employees' Credit Union
SunTrust
Virginia Credit Union
Other major banking institutions already supported for transactions processed through Samsung pay include Bank of America, Citibank, U.S. Bank, and Synchrony Financial. The growth of Samsung Pay, and the widening choice of options for making use of the service, are signs of the increased importance of the mobile payments sector – something that smart businesses are paying close attention to, in order to be able to identify how to best exploit the growth opportunities this presents.
Find out how you can make mobile payments work for your business – give us a call today and talk to one of our friendly team.
Published with permission from TechAdvisory.org.
Source.