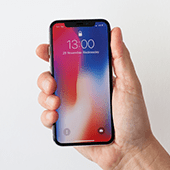 You probably already know that your Apple device collects some of your phone's data. You may also not like the idea of a corporation accessing personal information such as your location and the websites you visit. Fortunately, there are a few ways to protect yourself by tweaking some of iOS 11's privacy controls.
Location Services controls
Apple and other third-party apps and websites gather user location data to make Location Services work better. Apple Maps, Google Maps, and other mapping apps need location data to make recommendations, notify friends of your whereabouts, and more. But some users might not like every app on their phone having full access to their precise location.
To limit your phone's location-data gathering, follow these steps:
Go to Settings > Privacy > Location Services (lists all the apps that obtain location info on your device)
Review the location access privilege of each app:

While Using – the app obtains location data only when it's in use
Always – the app obtains data whether or not it's in use, as in the case of Google Maps and the Weather app
Never – for apps that aren't set up to obtain location data

Uncheck the apps set to Always that you don't want to have full-time access to your location info
Deactivate access by swiping the button from right to left
Location sharing and device controls
Share My Location lets your contacts see your location via apps like Messages and Find My Friends, as well as location-based features like Siri and the Home apps. It's often convenient to leave this activated, but users can deactivate it by swiping the button from right to left.
You can also share your location from other Apple devices connected to your Apple ID account. For example, if you own an iPhone and an iPad, you can share your location information from your iPad using your iPhone.
Here's how to do it:
Go to Settings > Privacy > Location Services > Share My Location
On the Share My Location page, tap From and choose the device from which you wish to share your location. From this page, you can also delete devices you no longer use. Just swipe the device name and tap Delete
Application-based privacy
You can also limit third-party apps from accessing your iPhone hardware and apps. For instance, if you don't want Facebook Messenger, WhatsApp or any other app to have access to your contacts, here's what you need to do:
Go to Settings > Privacy
Go to the individual app (e.g., Contacts)
Deactivate access to an app (e.g., Facebook Messenger) by swiping the button from right to left
System Services
You can also adjust your iPhone or iPad's location-data access on a system-wide basis. There is an option to allow your device to remember the places significant to you, which is aimed at improving location-based services in Maps, Photos, and other apps that need location data.
How to do it:
Go to Settings > Privacy > Location Services > System Services
Activate or deactivate individual system-wide settings (e.g., Find My iPhone, Sharing Time Zone, Significant Location, etc.)
Given the large number of apps you use on a daily basis, the amount of data you're sharing with third-party websites and apps could be alarmingly high. If you need expert help ensuring your business's Apple devices are not unnecessarily sharing data, call our hotline today.
Published with permission from TechAdvisory.org.
Source.