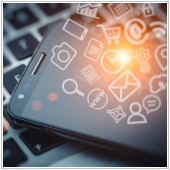 As subversive as smartphones may be, we'll likely never be able to completely get away from desktop computing. And when you're stuck hammering away on the keyboard, how do you mitigate the stream of texts and notifications coming in on your phone? In a win for PC computing, you can now receive and respond to the majority of your Android notifications from any Windows 10 PC. We've explained how this works and how to achieve it in more detail here.
The first thing you need to do is to wirelessly pair your Android phone with your Microsoft desktop. From the Google Play store, download and install the Cortana app and sign into the Microsoft account you use on your computer. Once you've signed in, select the Menu button in the upper-left-hand corner and select Settings. After that, select the option for 'sync notifications' and toggle which you would like to see on your desktop.
Notifications are broken down into four categories: calls, texts, battery alerts, and third-party apps. Although an option to answer the phone from your computer hasn't been added yet, you can read and respond to text messages. When deciding on third-party app settings, remember the goal is to manage your interactions, not create more. Make sure to disable any notifications that will create annoying redundancies like doubled-up Facebook alerts between your Android pairing and previously-enabled desktop notifications.
And just like that, you're all set. As long as you have Cortana enabled on your desktop, all your Android alerts will automatically display in your Windows 10 Action Center. There is no need to interact with the app on your mobile device, and we recommend removing the shortcuts from the clutter of your homescreen. Gone are the days of needlessly checking your phone every time it vibrates, just to find out it's another telemarketer or unimportant Instagram notification.
As technology reaches the hands of more and more people, and hardware and software options increase exponentially, there are few problems that can't be fixed with a little ingenuity. Our staff has that ingenuity, and they're waiting to impart it on you and your business. Call us from your phone or text us from your desktop. Regardless of how you reach us, don't wait for more problems to sneak up on you.
Published with permission from TechAdvisory.org.
Source.