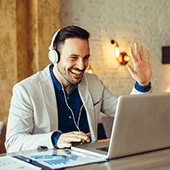 If you're like most people, your chat app is limited to asking basic questions or maybe touching base with a colleague. You switch tabs to do one thing and toggle back to do another. It would be great if completing a task were just a matter of keyboard shortcuts and menu items in a single window. Perhaps you're already using Microsoft Team to accomplish this, but are you getting as much out if as you can?
The convenience of chat apps has enabled workers to cut down on time spent away from their workspace to quickly exchange information with colleagues. And work-related software isn't just becoming more mobile, it's also getting more user-friendly, with apps like Microsoft Teams bringing together several different platforms. Here's how you can use that to your advantage:
Use SharePoint to store and share files
You might already be using SharePoint to store files and collaborate with your teammates. But did you know that in every Teams channel, you can click the Files tab to share files from SharePoint with team members? You can also access SharePoint files that are already shared in the channel and use Office Online or Office Desktop to collaborate on those files.
Forward emails into a channel
You get countless emails every day, many of which might be lost in your inboxes. Fortunately, Microsoft makes it easy to forward any email message from Outlook to a channel in Teams so they show up in both platforms. Just click the ellipsis next to any channel name and select Get email address. This generates an email address for the channel, which you can copy and use to forward files, documents, and messages.
Stick with a few groups
While you can create as many groups within your organization as you like, going overboard can result in a cluttered messaging interface that overwhelms team members. We recommend you create groups based on the number of projects and team members involved; you can always add more if necessary.
Set up audio conferencing
Teams lets you host voice meetings with groups or with just one team member. This is particularly useful when communicating with remote workers or clients, in which case you can give them guest access to your Teams channel. Guest access ensures they're able to communicate, but unable to view private information.
Test communication strategies
Just because some of the features in Teams overlap with other Microsoft platforms, such as Yammer and Skype for Business, doesn't mean they're all redundant. Think of it as a chance to test different communication strategies to find out what works best for you. For instance, if most of your clients have a Skype ID, you can use Skype for client calls and Teams for internal calls.
Share conversations with new team members
Teams makes onboarding new hires easy. Rather than forwarding numerous emails and documents to new employees, you can use Teams to share past conversations and projects with them. This enables everyone to catch up without having to deal with cumbersome documents.
Microsoft Teams and other Office solutions are equipped with plenty of useful features that can take some time to master. But by taking advantage of these tools, you'll be able to save time and maximize efficiency, all without having to spend a dime. If you have any questions about Microsoft Office and how it can benefit your business, don't hesitate to give us a call.
Published with permission from TechAdvisory.org.
Source.