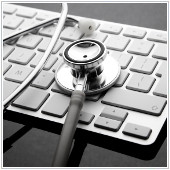 We may expect to find computers everywhere these days, from our offices, schools and airports to our pockets and wrists, but until now there's not been much call for computers in our hospital operating rooms. But new technology is making waves in healthcare circles and could even save lives by helping surgeons and physicians make life and death decisions. This is why investors and governments are looking into this area as way of improving healthcare and patient outcomes. So let's take a look at some of this miraculous medical teach.
Enhanced diagnosis and treatment
IBM supercomputer, Dr. Watson, was specifically developed to help doctors make more accurate diagnoses while also recommending treatments and procedures. In the future, it is hoped that physicians will be able to rely on Watson to keep track of patient history, keep up-to-date with the latest medical research and analyze potential treatment options.
How Watson does this is by analyzing unstructured data, which includes news articles, research reports and even social media posts. Once asked a question, it evaluates all possible meanings to determine what its being asked. Lastly it'll find supporting evidence and compare quality of information before presenting the best answers and solutions which the doctors can then decide to act on or not.
Breaking the language barrier
Omnifluent Health is a translation program developed by the Science Applications International Corporation (SAIC) that helps patients communicate with doctors and others in the medical field. For example, a doctor could speak into the app – ask if the patient has any allergies – and the Omnifluent translates the doctor's words into another language.
In the US alone there are 47 million residents that can't speak English fluently. The Omnifluent reduces the need for translators and helps quicken relay of important information, which allows more time for accurate diagnoses and treatment.
Social networking for doctors
In 2011, U.S. News, The American Society for Clinical Investigation along with other distinguished partners in the field have joined forces to create a physician-only social network dubbed Doximity. Its premise it that it can link doctors, allowing them to work together and share expertize so as to take greater care of their patients. Currently, the roster boasts over 700,000 searchable physicians available for case collaboration via instant messaging.
One call away
To save patients from a potential trip to the ER, Sherpaa is a New York-based telehealth provider offering medical consultations online and over the phone. Patients can use Sherpaa to contact the city's top medical specialists, capable of not only treating sore throats and hay fever but also help treat an array of acute and chronic illnesses. This development could possibly signal the beginning of healthcare (literally) being at your fingertips.
Health on-the-go
To keep up with the 21st century's fast-moving pace, a growing number of mobile apps and gadgets have been developed to help people stay active, sleep better and eat healthy. Examples include the Fitbit pedometer that tracks sleep and daily activity, and utilizes social networking to motivate users.
Lark is a silent alarm clock and is in charge of monitoring and analyzing your sleep activity. It goes a step further by offering suggestions on how to boost the snooze. If you are diet-conscious, numerous calorie-counting, food-monitoring and menu-tracking apps are also at your disposal.
These are just five of current healthcare IT developments and many of more to come. Want to find out more on how technology is improving healthcare? Looking for some more apps? Give us a call us today, we're sure we can help.
Published with permission from TechAdvisory.org.
Source.