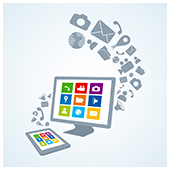 It is the largest single theft of Google accounts ever reported. And if you own an Android 4 or 5 phone, it has likely already affected you. The Gooligan virus, running rampant in third-party app stores, promises to keep wreaking havoc until developers find a way to shut it down. To help your business avoid malware catastrophe, read on to learn what we know about Gooligan so far.
It is estimated that since Gooligan's August 2016 appearance, the malware has infected more than 1.3 million Google accounts — one of the largest single thefts in recent history.
With the range of personal data available in Google accounts, it is interesting to note that Gooligan's purpose isn't to steal the valuable information; instead, it's to distribute advertising fraud. With as much as $320,000 a month going into the pockets of Gooligan developers, it is obvious that the ploy is working.
How Gooligan is Moving Through the Internet
Consumers are falling prey to the virus when they attempt to download a fake app from a third-party app store. Instead of getting the program that they were promised, they inadvertently allow the Gooligan malware to root into their Android OS and take control of it. Once in control, the virus downloads apps using your Google information. These apps are infused with ads that belong to Gooligan developers, bringing them a never-ending stream of income.
Where Gooligan Came from and Where it's Going
Gooligan appears to be a variation of the 2015 Ghost Push malware, which was also wildly successful at infecting Android users. Google is currently working with Android engineers and Internet security firms to quelch the malware; they believe that through cooperative efforts, it will disappear from public attention. As it is, those who have updated Android versions of 6.0 or greater are not affected by the malware.
You can lower your chances of contracting the Gooligan malware by downloading apps only from Google Play and checking your system through the security firm Check Point to ensure your Android hasn't already been infected. For more information on Gooligan and how you can protect your company, contact us.
Published with permission from TechAdvisory.org.
Source.