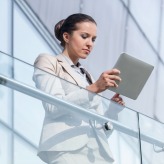 There are countless apps on the Google Play Store, and this makes choosing the best ones for your tablet hard, to say the least. Some actually make your device more functional, while others simply don't deliver. We've handpicked seven of the apps that will really help you get the most out of your Android device.
Google Drive
Google Drive gives you 15GB of free cloud storage (you can purchase additional storage as needed), plus access to Google Docs, Sheets, Slides, and Keep to do both work and personal tasks even while on the go. It also includes Google Photos, which you can use to store, view, and share photos and videos.
Microsoft Office apps
The Microsoft Office apps bring you all the essential tools you need to get work done. They encompass all the familiar Office apps, including Word, Excel, PowerPoint, and more. Create and edit documents anytime, anywhere, on any internet-connected device. And with these apps' integration with OneDrive, Microsoft's cloud service, your documents are automatically saved and easily shared with others.
Evernote
Trouble keeping track of your tasks and ideas? Then Evernote is the app for you. Create handwritten notes, or notes that take the form of a voice memo, photo, screenshot, or an excerpt from an online article. And with their smart search tools, finding the notes or notebooks you need is a breeze. The Premium and Business options offer even more features. For example, the Business plan includes Spaces, which you can use to organize notes in separate notebooks that different teams in your company can access.
AirDroid
Exclusive to Android, AirDroid is a file-sharing app that lets you wirelessly transfer files from a smartphone or tablet to a PC, and vice versa, all at lightning speed. It also allows you to access your device from your computer — manage your messages, contacts, camera, media files, and apps from your laptop's or desktop's web browser.
Pocket
Save content from a wide range of sources for offline viewing with Pocket. If you come across an interesting article on a news site or a video on Twitter, simply tap on the Share button in your device's menu or the share menu in an app to save it onto Pocket. You can add tags to your saved content, so that they're easy to find and pull up when you need them. And if you're happy with your picks, share them with others through their Pocket accounts or social media.
CamScanner
This nifty application allows you to use your Android tablet's camera to scan documents such as invoices, forms, and receipts, and have them exported as PDF files. You can store, sync, and collaborate on these documents across a variety of web-enabled devices. The app also comes with support for sending faxes, OCR (optimal character recognition), printing, and more.
LastPass
Memorizing all your passwords for all your social media accounts, apps, and websites is a pain, and that's why a good password manager like LastPass is essential. This app quickly generates strong and secure passwords, and automatically logs you into various apps and websites across all your devices. With LastPass, you don't have to remember a password ever again.
This list is far from being a comprehensive one, but these apps can help you get the most out of your device. If you want to learn how to use Android devices to boost your business's efficiency, give us a call today.
Published with permission from TechAdvisory.org.
Source.